3 Tips To Sticking To Your Resolutions This Year
It's already the second week of the New Year and it's coming up on the time when most people give up on the majority of their resolutions for the new year. It's unfortunate, but true. Every year we make these resolutions and they usually consist of things like losing weight or making more money, most of which are very vague. To me there is a difference between a resolution and a goal. A resolution is defined as a firm decision to do something. A goal, however; is not just a firm decision it's also a plan, it has a time frame and it's easily measured. We all make these firm decisions every day but things change and get busy as the day goes on so at the end of the day we look back at the decision we'd made to go to the gym in the afternoon and it's replaced by the decision to watch the game on TV. The key to stopping yourself from doing this is changing the resolution to a goal.
1) It starts with planning. Let's say that your resolution is to go to the gym more. Start by asking yourself what the goal of going to the gym is. It could be to lose weight it could be to gain weight. For our example, lets say it is to lose 50. So then you ask yourself "how long will it take me to reach that goal?" Well lets say that you can average a loss of 1 pound a week. Now you have a target to hit and a time frame. Your goal would now be to lose 50 pounds in 50 weeks.
2) Right now in your brain 50 pounds is an arbitrary number. Very few people have the fortitude to make themselves work as hard as you have to in order to lose 50 pounds, because it has no meaning. What you have to do is figure out what losing 50 pounds would mean to you and find a reward for yourself for achieving it. So now your goal would be to lose 50 pounds in 50 weeks so you can fit into your old bathing suits and when you do, you will take a 2 week vacation to the Caribbean.
3) I have saved this step for last because it is the single most important for making sure that you stay on top of your goals. You have to remind yourself constantly of what you are working towards. Wake up in the mornings and write down your goals first thing. When your goals are tied to something meaningful this will fire you up for the day. Change your phone background to a picture of the beach, if you're really dedicated you'll go ahead and book the trip! What this is doing is re-wiring your subconscious mind and making the goal a priority. Time is often the default excuse for people not reaching their goals, but everyone has the same amount of time in a day. What varies is priorities.
So change your New Years Resolutions into New Years Goals and watch how this time next year your goals have been achieved. If you have any question about what I have said or about how you I can help reach your goal of home ownership then let me know.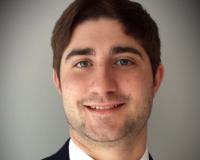 Author:
Johnathan Stroud
Phone:
919-443-0200
Dated:
January 10th 2017
Views:
455
About Johnathan: Johnathan is a native of North Carolina and currently lives in North Raleigh. His ambitious and goal...